We can help you prepare with summer weather that is rapidly approaching. Soon everyone will be out trying to buy everything they need for the beach. The most important thing on that list is beach towels! We have put together the ultimate Victoria London collection with two incredible new arrivals…
The New Arrivals
Our first new arrival is the VL Hammam Turkish Style Towel. This grand product has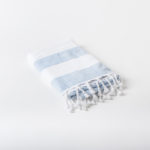 been designed with two soft colours; white and blue to ensure that you can be completely relaxed and soothed. This towel can be used for many purposes, whether that's to be used as a comfortable blanket or as a towel to dry yourself off with. It's available in two different sizes which are 70 x 150cm and 70 x 140cm, with only a slight difference in price!
The second new arrival is the VL 550 GSM Anchor Beach Towel with A Tassel Fringe. With a sea theme, the deep blue background and white anchors
is perfect for a day out at the beach! Like the VL Hammam Turkish Style Towel, it is also available in the same two sizes of 70 x 150cm and 70 x 140cm. The 550 GSM guarantees a luxuriously thick texture, making it a very comfortable towel to lay on. Additionally to this, the absorbent nature of the towel will soak up the moisture of your body in no time! Proving it to be a good buy for when you want to go swimming.
The Original Range
If that isn't enough, also in this range we have the VL Chlorine Resistant Pool Towels that come in 3 different colour combinations! The chlorine resistant feature makes sure that the dye doesn't run, leaving the towel looking perfectly new.
Then the VL Striped Velour Beach Towels comes in 2 different colour combinations and sizes. The fact that it is velour enforces its soft delicacy and ease to wash – ideal for a day out on the beach because after you can easily brush off the sand.
Our last two products in the beach range are both made from recycled yarn, helping to save the environment. The VL Yarn Dyed Multi Stripe Beach Towel is a wonderful and eco-friendly product that come in a varity of colours. Each towel is unique due to the recycled yarn available. The VL Yarn Dyed Multi Stripe Beach Towel with a Zipped Pocket is an amazing addition to your summer list! With a zipped pocket, the towel allows a safe place to put objects like your phone in whilst you go for a paddle in the sea.
Please contact us now to know more on 01634 297 134. Or, click here to be referred to our brochure where you can have a look at all of our products, including these towels!
Credit/written by Hannah Thornton